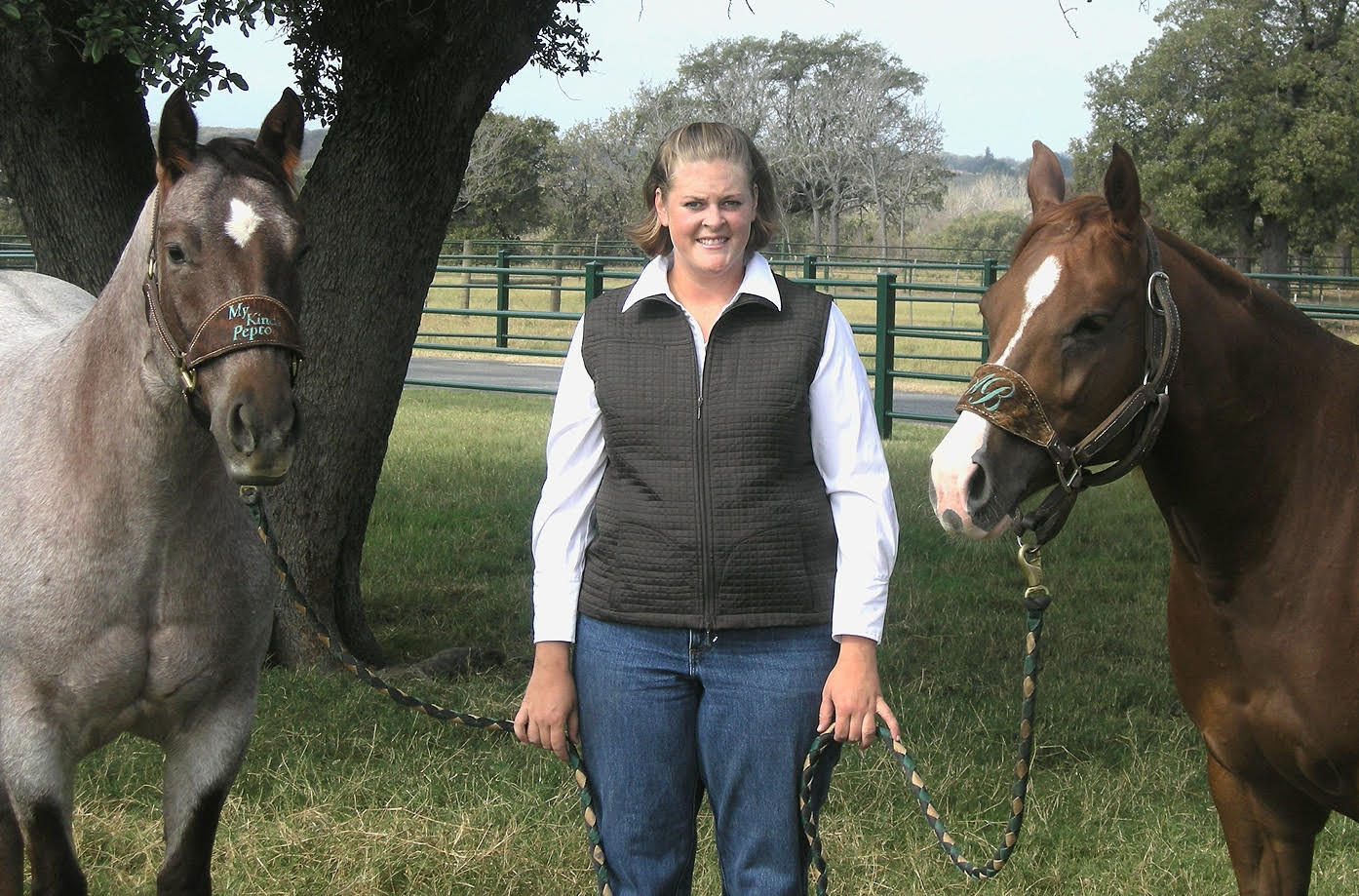 19 May

Old Passion, New Motivation

After Amy Bell's unexpected death, her family struggled emotionally with how to move the Kalpowar Quarter Horses program forward. They found the answer in a close friend and the horses she loved.

By Lillian Kent

The Kalpowar Quarter Horses name today is synonymous with event sponsorships, well-bred horses and winning. But just a few years ago, decades of contributions to the Western performance horse industry nearly came to an end.

On May 16, 2014, Amy Bell, the youngest of the Bell family children and the heartbeat of the Kalpowar operation, passed away unexpectedly from a pulmonary embolism. She was 33. To say her death had a huge impact on the family is an understatement.

"Amy was running Kalpowar Quarter Horses when she passed away," said Larry Bell, his voice wavering as he thought of his late daughter. "I was done. I was thinking, 'I can't do this anymore.'

"Mentally, I had turned it over to Amy. She was running it; she was looking after it. If she wanted to visit about it, we'd visit about who we were breeding to and what we were going to name the babies, but she was running it."

Trainer Jake Gorrell has been involved in the Kalpowar operation since 2007. TheEqui-StatElite $1 Million Rider and National Reined Cow Horse Association (NRCHA) Snaffle Bit Futurity Open Champion worked closely with Amy. When she took over the reins at Kalpowar, the duo extensively discussed training horses and breeding.

And, Larry said, the Porterville, California, trainer became part of the family.

With Amy gone, Larry began the process of liquidating Kalpowar Quarter Horses, and selling the broodmares and prospects.

"We got down to just a few young horses and some nice mares. I was going to sell them all and be done," he said.

Larry's eldest son, Matthew, distinctly remembers a family meeting after Amy's passing. The talk was to discuss what to do with the remaining horses, and Matthew's brother Brian quickly interjected with, "We are not selling it all."

"Amy wouldn't want us to sell the whole thing," Matthew recalled Brian insisting. "We have always been in the horse business. It's an important part of who we are, our history and heritage."

Larry felt as though he was at an impasse because neither he nor his sons had time to manage the Kalpowar program the way Amy did, not to mention the fresh grief intensified by working with the horses.

"Jake was helping me decide where to sell these horses, who to sell these horses to, and during that conversation, he said, 'Larry, I love those mares.' Because he was riding their babies," Larry recalled.

Gorrell asked if there was a way he could purchase the broodmares from the Bell family.

"They were going to get out of the business. They were going to sell everything, and it just kind of broke our hearts," Gorrel said of his and wife Sonia's perspective. "We couldn't see that happening.

"You know we had been very good friends, very close, not only as a horse trainer [and client], but we had been on the board of the NRCHA together. We had just become very close."
Keeping Kalpowar Quarter Horses alive was a group effort. The details were ironed out and Gorrell became a partner in the brand in late 2014. Matthew stepped up to assist with the record-keeping and breeding aspect of the business. To Matthew and Brian, preserving the program was preserving their family heritage.
Amy grew up riding hunter/jumpers and began to ride cutters in college. She had gravitated more and more toward reined cow horse before her death. According to Equi-Stat, her record reflects $46,589 in lifetime earnings with more than $10,000 in reined cow horse.
"She was coming with us to all the cow horse shows," Matthew said. "Because of her English background, she knew how to ride and change leads, but I think she wanted to compete in the cow horse horse show classes, where she could do the reining pattern and work the cow on the fence. She really wanted to work and control the cow."
Amy's love of horses and desire to contribute to the family business led her to take over Kalpowar's operations in 2007. According to Matthew, his and Brian's varied interests and young families of their own made Amy the perfect candidate.
"That was her passion," Matthew said resoundingly.
It was in her genes.
Larry and Ellen Bell have deep roots in the ranching community. Larry grew up in Roswell, New Mexico, running out to the family ranch on the weekend to care for cattle and mend fence. Ellen's family, based in Midland, Texas, at one time managed more than 200,000 acres. The parcels, which housed the family's cattle and horses, were located in New Mexico, Texas and North Queensland, Australia.
Ellen's family traces back to the grassroots of the American Quarter Horse Association (AQHA). Her grandfather, Roy Parks, was one of the original founders of the association.
"My mom's family was really instrumental in the formation of AQHA, and they had large ranches, so there was a definite need to have good horses," Matthew said.
Wed in 1971, Larry and Ellen moved to Midland, where Larry worked as a certified public accountant for a local firm. When Ellen's step-father, Bill Faudree, fell ill, Larry left accounting to help tend to his in-laws' family ranches and real estate interests. Three children later — Matthew, Brian and Amy — the Bell family began breeding horses in 1994 with the intent to create a ranch gelding capable of expediting the ranch work.
"Let's go see if we can breed a better horse, start them and use them on the ranch. If we saw some promise in starting them, we would try to make a performance horse out of them," Matthew said of the family's strategy. "The plan would be to show our best prospects, but we always wanted to market the geldings at the ranch gelding sales across the state of Texas. Good, well-bred ranch geldings that are trained are always in demand."
Using the Parks family's broodmares, who possessed traditional and respected cutting bloodlines such as Peppy San Badger, Poco Bueno, Hobby Horse and Doc O'Lena, the Bells began breeding foundation mares to more modern performing horses in an effort to develop a top-notch, ranch-bred horse. The early Kalpowar horses were sired by stallions like Bueno Chexinic, Mister Dual Pep, Reminic, Smart Peppy Doc and Lenas Sugarman.
As the years went on and the genetics progressed, the Bell family began concentrating less and less on their ranch horse program. A drought pushed them to liquidate most of their cattle, and the business pivoted to focus more heavily in the Western performance horse industry.
In 1998, after years of attending the National Cutting Horse Association (NCHA) Futurity, Larry made his way out to Fresno, California, to see his first NRCHA Snaffle Bit Futurity. Greg Ward brought home the Open Championship that year on Reminics Pep (Reminic x Peppy Remedy x Peppy San Badger).
It was all over. Larry was in love with cow horse competition from that moment.
The family purchased mares with bloodlines better known by the industry's top competitors and bred them to the best stallions they could find.
The name Kalpowar Quarter Horses was selected after Kalpowar Station in North Queensland, Australia, a large cattle ranch Larry helped manage for Ellen's family. A "Kalpowar" is an orchid that grows in Australia, identifiable with their pointed yellow blooms.
In 2004, at the NRCHA's first-ever World Show, Kalpowar-bred mare Ima Little Dual Pep (Mister Dual Pep x Miss Chickasha Sam x Little Peppy Sam) won the Non-Pro Hackamore with owner Jennifer Jarosz of Buda, Texas. The success made Larry, Ellen and the rest of the family even more excited to ramp up their involvement in the NRCHA and Southwest Reined Cow Horse Association (SRCHA).
Two decades and several board terms, title event sponsorships and even a stint as the SRCHA president later, Larry has shown the Kalpowar team is here to support and invest in the reined cow horse industry.
With the presence of Amy in their hearts and minds, every member of the Bell family has returned for the social aspect of the cow horse sport.
"It was so painful to go [back] to the shows," Matthew said. "It took several years before I could return. Our friends in the equine community were grieving with us. At that time, it was just hard to be there because of Amy's love — not only for the horses, but the people."
Kalpowar Quarter Horses is a common sight on sponsorship banners throughout NRCHA arenas today, and Larry and Ellen are enjoying every moment they can among their reined cow horse family.
"Mom and Dad love going to the shows," Matthew said. "They love seeing their horses, and if it makes them happy, then it makes us happy."
In today's program, Matthew and Gorrell work together to plan the stallion matchups for the Kalpowar broodmare band and manage the mares' offspring. As well as cheering on their show horses, the Bell family is also looking forward to its upcoming performers, including two 2-year-old Bet Hesa Cat fillies. One is in training with Gorrell and the other is with 2015 NRCHA Snaffle Bit Futurity Open Reserve Champion Erin Taormino.
Kalpowar is currently represented in the show pen by horses like Plain Catty (Bet Hesa Cat x Miss Plain Plain x Just Plain Colonel) and Countin Reys (Im Countin Checks x Reylena Moon x Dual Rey).
Plain Catty, a 6-year-old bay roan stallion who ranked among the top 20 horses on the 2019 Equi-Stat Annual Reined Cow Horse Statistics, was ridden by Gorrell to the 2017 NRCHA Snaffle Bit Futurity Open Championship and the 2019 NRCHA Open Hackamore National Championship.
"He's a really good athlete: super smooth and easygoing, big stopper and super cowy. All the good stuff … super good-minded, quiet," Gorrell said of the $186,000-plus earner Kalpowar Quarter Horses purchased in early 2019.
According to Matthew, Kalpowar's goals are set on raising a small number of high-quality horses that can be successful in the cutting or reined cow horse pen.
"What we're doing in life now is trying to find happiness," Matthew explained. "There was a lot of grieving when Amy passed away. It's not a sad story; it's a joyous one because we all know she is looking down on us with a smile."