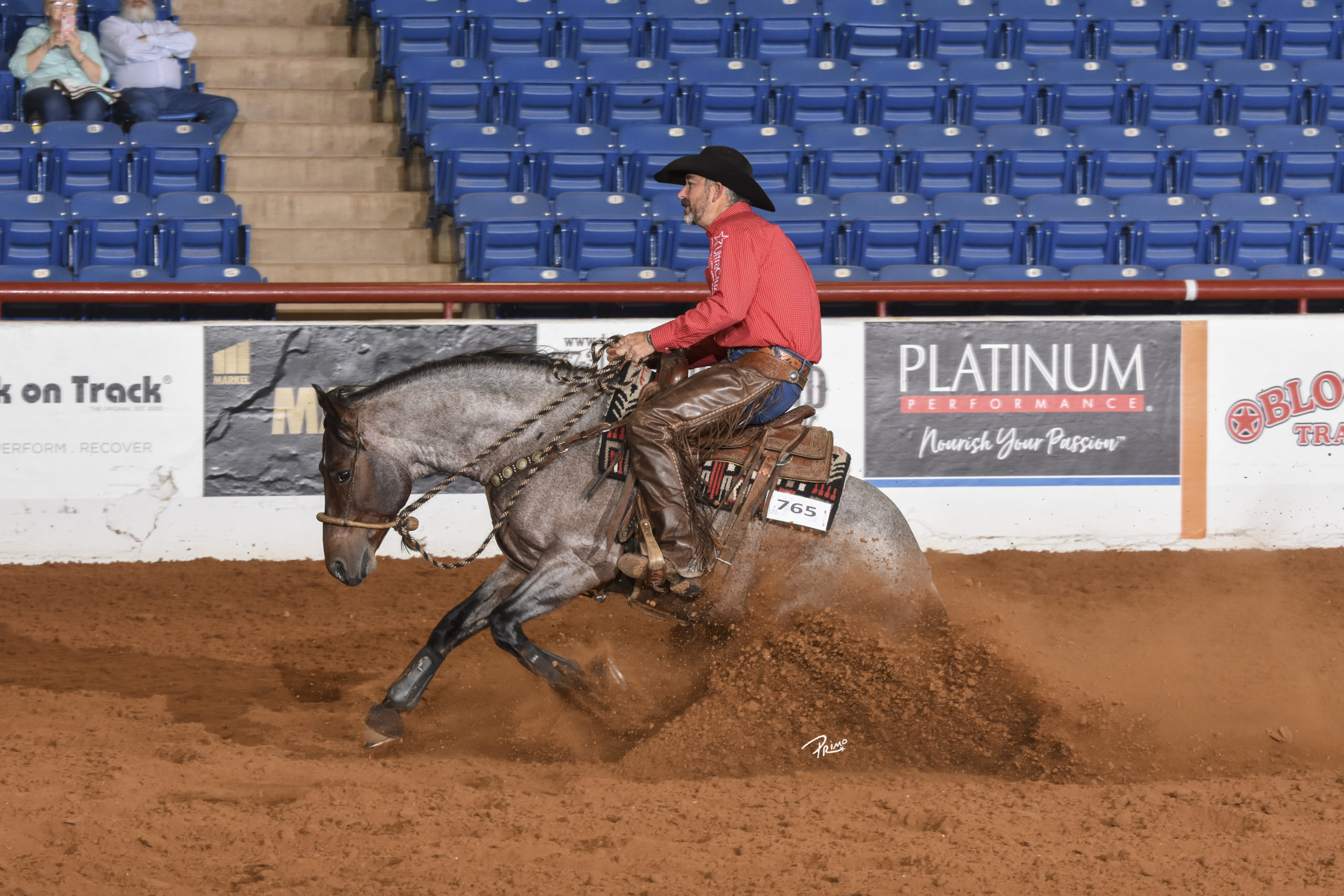 23 Sep

NRCHA Newest Million Dollar Rider – Jake Gorrell

Posted on September 23, 2017 by Molly Montag.
Jake Gorrell joined an elite group of cow horse riders when he climbed past $1 million in National Reined Cow Horse Association (NRCHA) earnings over the summer.
The Idaho native had been close for some time, and was glad to finally get over the hump. Having curtailed his show schedule in recent years to focus on a cattle operation, Gorrell said he had to buckle down to reach the lofty milestone.
"Honestly, it was a relief," said Gorrell, now living in Hanford, California. "It just felt like that last $60,000's just been a struggle. It's been penny-by-penny."
He joins 13 riders who have won more than $1 million competing in the National Reined Cow Horse Association. As of Sept. 18, his Equi-Stat record reflected $1,043,497 in lifetime earnings.
Gorrell began riding as a child in Idaho, where his father, Jerry, was a horse trainer. He competed some as a youth and then earned a business degree from Albertson College of Idaho, a liberal arts school now known as College of Idaho. Gorrell didn't immediately go into training, opting for a non-horse industry job, but quickly realized his true passion was with horses.
"I just kind of felt a hole," he said. "I just kind of felt like I was missing something."
Gorrell went to Jim Roeser, who he'd lived with and worked for during college, and told him he wanted to train horses. Roeser sent Gorrell to his son, Jon Roeser, in California, and Gorrell spent the next 20 years training horses in the Golden State.
He picked up his first paychecks at the 1998 NRCHA Snaffle Bit Futurity aboard James Heusdens' Lil Mamasita. Gorrell's top earner is Roloff Ranch's Smooth N Cash, a 2005 gelding by Smooth As A Cat out of Docs Gavacash (by Miss N Cash).
A stellar bridle horse, Smooth N Cash has won $258,064 with Gorrell in the saddle and is still competing. They've earned multiple big event wins in recent years, including the CD Survivor Memorial Bridle Spectacular Championship at the NRCHA Derby and the NRCHA Stallion Stakes Open Bridle Spectacular Championship. Gorrell still regularly shows Smooth N Cash in the annual World's Greatest Horseman competition at the NRCHA Celebration of Champions, as well.
"That horse has pushed me through a lot of it, so he's been a highlight as far as getting where I am," he said.
His other top earners are NRCHA Derby Open Champion Quick As Einstein (As Smart As The Fox x High Brow Jose x High Brow Hickory) and American Quarter Horse Association Junior Working Cow Horse World Champion Paid By A Starlet (Paid By Chic x Starwards Ginger x SMF Lenas Award).
Gorrell credits the support of his parents, Jerry and Gayle, his wife, Sonia, and 6-year-old son, Chet, for helping him be successful. He also received guidance from the Roesers and NRCHA Hall of Famer Don Murphy, among other trainers.
He said his career has taught him the importance of persistence; that the key to success is to "just put your head down and keep striving every day."
"Do your homework at home [and] get them good so you can go win," Gorrell said. "Sooner or not, you're going to start winning."