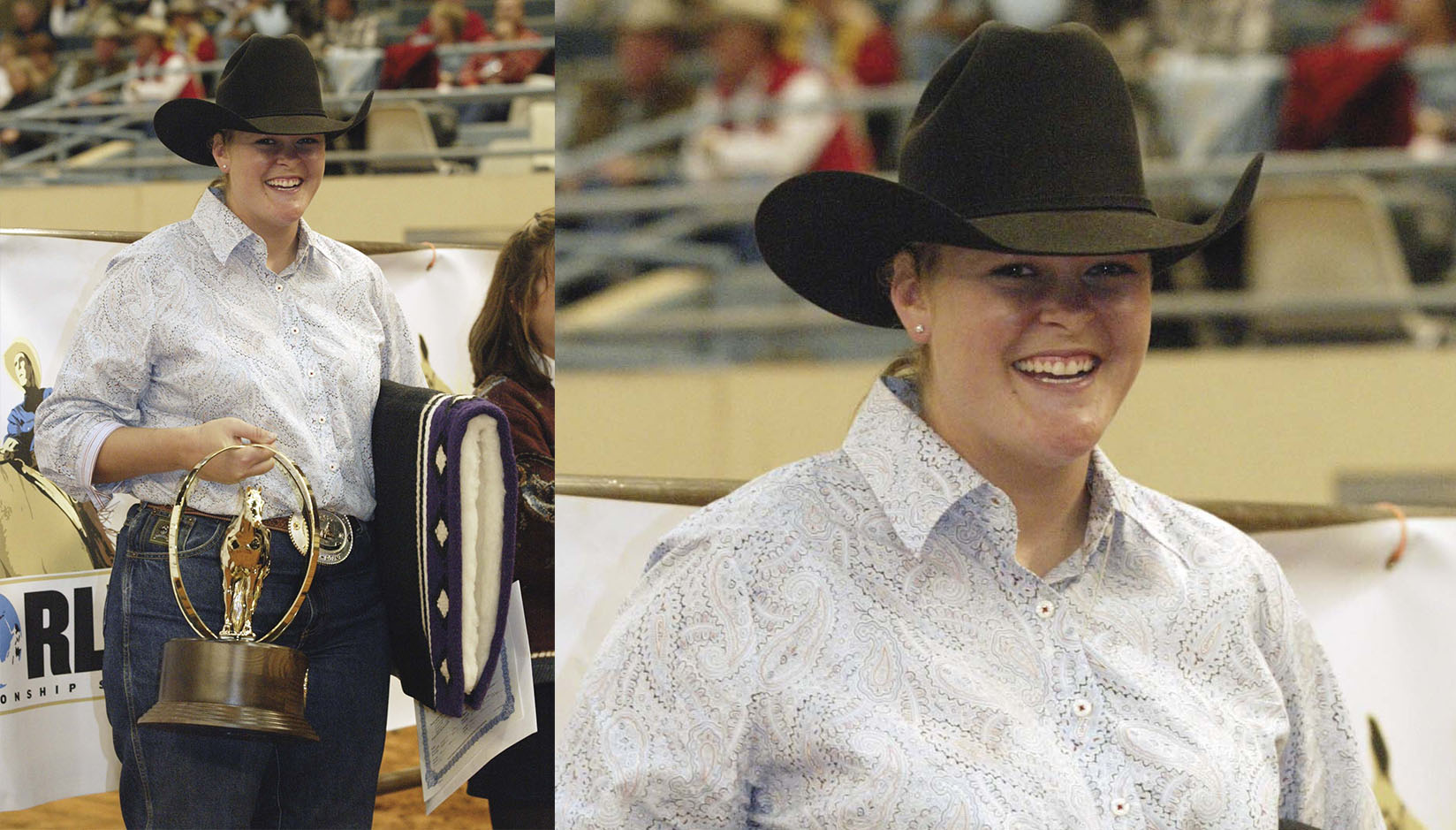 18 Dec

Cutting At The Top Of The World

Quarter Horse News – December, 2003 by Katie Tims.
Girl Like That didn't have a cutting dollar to her name. That was last year. Now, it's 12 months later and Girl Like That is an AQHA World Champion. With Tony Rebeiro in the saddle, the bay mare cut to a 223 to top a deep field of experienced cutters and riders. The mare's owner, Amy Bell, Stephenville, Texas, was on hand to see Girl Like That claim the gold.
When Bell purchased the mare in December 2002, the 4-year-old had been shown only once. In the market for a talented, yet affordable limited age horse, Bell asked Rebeiro to help her find a workable candidate. The two came up with Girl Like That, a mare by Playgun, a stallion that has produced more than 100 horses with cutting earnings exceeding #2 million. The mare is out of Shortys Bonita Lena, by Shorty Lena. Danny Motes bred and raised the horse and Tim McCloud readied the cutter for the 2001 NCHA Futurity. Mica Motes showed Girl Like That in the Amateur Division that year and then consigned the mare to the Western Bloodstock sale held during the 2002 NCHA Derby. Girl Like That was purchased back by Danny Motes.
About six months later, Girl Like That was at the Bar H Ranch in Weatherford, being ridden by Dean Holden. After learning about the mare during one of the NCHA Futurity pre-works, Bell and Rebeiro opted for a couple of test rides. Both cutters liked what they felt. "I got along with her really well, which is a really big thing for me," Bell said. "Anytime I tried to help her, she was willing to work with me." The trainer agreed. "I really liked the way she stopped," Rebeiro said, recalling what he liked best about the first ride. "She really grabs the ground and she's a sensitive mare. I knew she'd fit Amy."
Girl Like That had a solid foundation but she also had more than just a little heart to her personality. She was, and still is, a bit rambunctious and that proved to be a challenge when it came to warming up enough to seriously work a cow. "She's kind of flighty," Rebeiro said with a grin. "She wants to go fast everywhere she goes."
Instead of fighting the mare's energetic tendency by loping endless circles, Rebeiro covered lots of open ground instead. With large fields and sandy soil at home, the trainer saddled the mare and took her for outside rides. Long trotting and loping until she was ready. Girl Like That naturally settled into the serious business of working a cow.
Less than a month later, Bell rode Girl Like That to the Amateur Classic finals at the Abilene Spectacular, and followed that up with a third in the Amateur Classic at the West Texas Futurity later in the year. Rebeiro rode the mare to win the Limited Open at West Texas. "We just piddled along and went easy, and she's just gotten better and better," Rebeiro said about the mare's training schedule.
Girl Like That got her World Show competition off to a good start, scoring a 219 to place sixth in the preliminary round. In preparation for the finals, Bell loped the mare and Rebeiro said that Girl Like That was ready to put coliseum competition aside and cut a cow or two. "I was a nervous wreck," Bell said with a laugh. "I was a little nervous when she showed, but it was after she showed that it made it so nervewreaking."
In the end, the score held and the quick-moving Girl Like That earned her biggest win to date. The trainer was not worried a bit about alternating the horse between amateur and open competitions. Rebeiro pointed to Bell's years of riding hunter/jumpers and the amateur's ability to sit a horse and keep her hands soft. Plus, Girl Like That has certainly gained the trainer's confidence. "I love showing her," rebeiro said. "She's to the point now, you almost feel bulletproof. You could go in and cut anything.