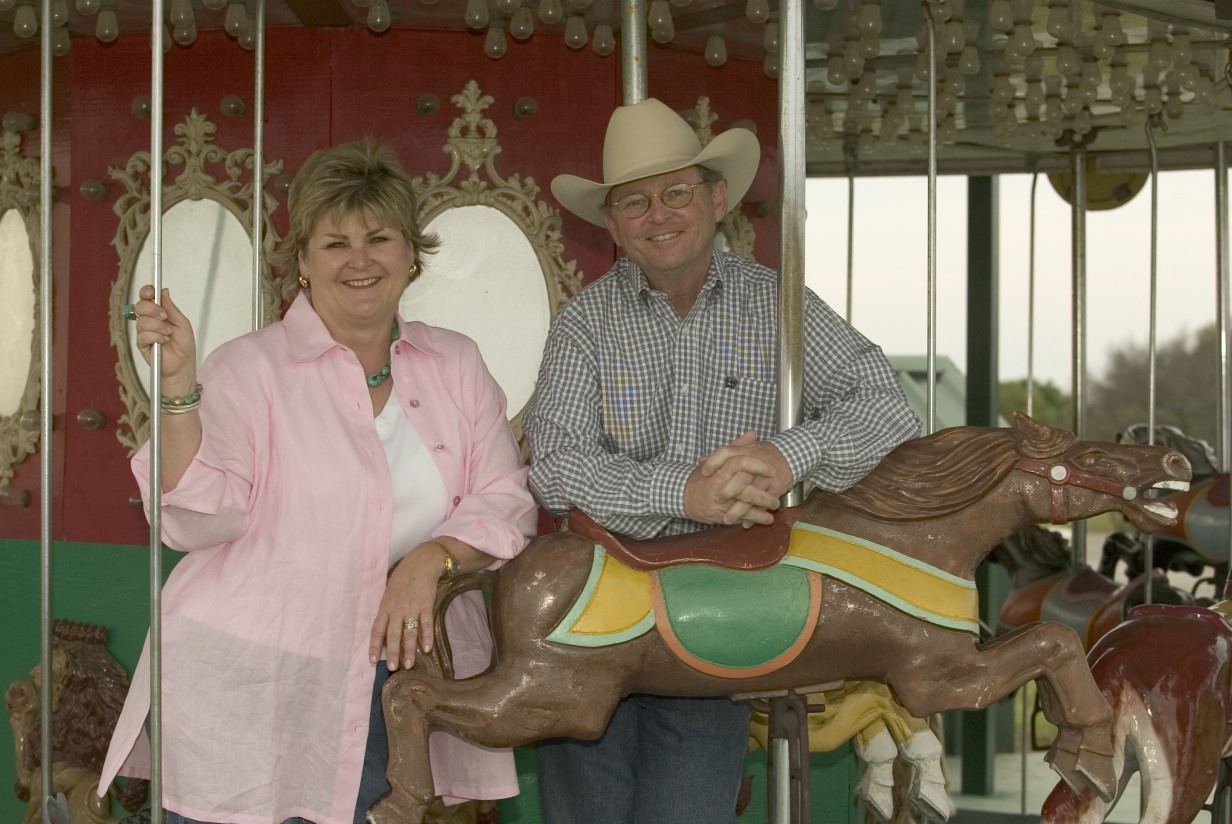 18 Oct

Back to the Future

by Betsy Lynch

Quarter Horse News – October, 2006.

Larry and Ellen Bell's ranching roots run deep – very deep. Yet, for years, the couple lived in town and commuted to the family ranch whenever they were needed. Larry, an accountant by degree, was managing myriad businesses, while Ellen concentrated on raising their three children, Matthew, Brian and Amy.

Given the family's heritage, the Bell children all learned to ride. Yet whenever they went to the ranch, daughter Amy was always more interested in petting the kittens and chasing the ducks than she was in the horses.

Ironic then, that it was this non-horsey child who ultimately led the Bell family on the route back to their roots and into a life now fully vested in performance horses.
The pivotal event was something as ordinary as summer camp. The Bells had enrolled 9-year-old Amy in a two-week tap-dancing and ballet program. Yet when they went to pick her up, they were surprised to find their daughter on the back of a horse, enjoying an English riding lesson.
"When Amy came home, she really wanted to continue this," recalls Ellen. "But I said 'Amy, we don't know how to do English – we do western. That's a whole different kind of horse.'"
"We'd never been to an English horse show," Larry admitted. "'We didn't no nothin' 'bout birthing no babies,'" he joked, parroting the line from Gone with the Wind, when Scarlet's maid is overwhelmed by the impending arrival of a newborn with no doctor to attend. "The boys were riding the geldings at the ranch, but we really didn't know anything about braiding manes and tails. We could help her put her boots on, that was about it."
Ellen enlisted her friend Barbara McGruder, who gave Amy lessons and paired her with a little chestnut mare called Hobby. The following Christmas, Hobby became Amy's, presented with a red ribbon around her neck.
As Amy's interest in horses flourished, her dutiful parents watched and began to figure out those hunter-under-saddle classes. It soon became apparent to Larry that his daughter's competitive talents were fast outstripping her mount's. Hobby was a stock-type mare, not an elegant hunter. Dad offered an upgrade. Amy declined. She and Hobby were not to be parted.
So Larry decided to approach the situation from a different angle. What if they bred Hobby and raised a show prospect? To that, Amy agreed.
Promise in a Pedigree
When the search for a suitable stallion began, Ellen dug Hobby's registration papers out of the desk drawer. Until then, neither she nor Larry had ever even looked at the mare's pedigree.
What Larry saw surprised and excited him. His daughter's "hunter pony" was actually an own daughter of Hobby Horse, an AQHA world champion cowhorse. She had been bred by Les Vogt, a West Coast trainer whose name Bell immediately recognized.
Even more startling was that Hobby Five's dam, Camay Five, appeared to be a direct link to the Scharbauer Ranch breeding program. The Scharbaurers had been their own longtime ranching neighbors in Midland, Texas.
Ellen's grandfather, Roy Parks, Sr., and Clarence Scharbauer had shared a penchant for well-bred Quarter Horses.The two men had partnered on a number of stallions over the years, crossing them on their respective mares in order to keep their outfits well supplied with good ranch geldings.
If the name Roy Parks sounds familiar, it's because Ellen's grandfather was a well known cattleman and horseman. At one time, Parks ran as many as 2,000-3,000 head of mother cows over vast stretches of West Texas. Twice he had served as the president of the Texas and Southwestern Cattle Raisers Association. In 1960, he was also the president of the AQHA.
When Larry studied Hobby Five's papers, he saw that Camay Five was sired by Silver Wimpy. Clarence Scharbauer had purchased Silver Wimpy from the King Ranch. Matt Faudree, Ellen's younger brother, confirmed that Roy Parks, Sr., had also bred mares to Silver Wimpy.
There was also some speculation as to whether Ellen's father, Roy Parks, Jr., had used Silver Wimpy as a rope horse. They later determined it was a different horse, Little Wimpy, another King Ranch stallion that Roy Senior had owned. It was Little Wimpy who sired Miss Ellen, foaled in 1951 and out of one of his top mares, Miss Harriett. The mares were namesakes for his daughter-in-law Harriett Parks, and his newly arrived granddaughter, Ellen Parks.
Roy Parks Jr., was an accomplished horseman in his own right. He is credited, along with the late Buster Cole, for setting AQHA Reining Pattern No. 1. He was also known for his roping skills. Hall of Fame horseman Buster Welch credits Roy Junior with teaching him how to handle a loop. As a young man,Welch worked on the Parks Ranch. After the workday was done, Buster and Roy Junior would often practice roping until the sun went down. In fact, Buster still has two roping photos of Roy Junior, hanging on the wall of his ranch office in Rotan, Texas.
Sadly, Ellen, never knew her birth father. Roy Parks, Jr., died of a brain tumor several months before she was born. Ellen's mother, Harriet, then married Bill Faudree, a Midland rancher and oilman, who was always "Daddy" to Ellen.
Setting Goals
The Bells were blown away by Hobby Five's link to their own family history.
"The juices just exploded at this point," Larry recalls. "We just thought it was an unbelievable combination. It reconnected us in a very dramatic way with our roots."
Larry and his brother-in-law, Matt Faudree, saw genetic potential in Amy's mare that had nothing to do with producing hunter-jumper prospects. Hobby Five had cow sense on both sides of her pedigree.
By this time, the family was operating ranches in Midland, Pampa and Alpine, and Larry and Matt Faudree had partnered on a small herd of commercial cattle. They needed some sturdy ranch geldings. However, they were having trouble finding the right kind of individuals, especially for the rough, rocky terrain of Alpine. The prospect of raising their own had practical appeal.
Larry reasoned that if Amy's mare didn't produce the desired hunter prospect, this was a great fallback plan. Fillies would be sold or become seed stock for their new breeding efforts. Colts could become ranch geldings or sale prospects for the competitive ranch horse market, which was starting to gain momentum.
With that in mind, Hobby Five was bred to Lieutenant Lark, a 16-hand son of Rugged Lark who stood at the Schroeder Ranch in Gainesville, Texas. The stallion was an accomplished all-around horse. He had AQHA hunter points, which satisfied Amy. However, the majority of his points were in roping, reining and working cowhorse, which satisfied Larry.
Hobby was assigned to maternity duty, and Amy conceded to getting a new English horse.
Studying pedigrees and working through that breeding decision had sparked the Bells' interest in putting together a small set of mares, with the goal of raising nice ranch geldings.
With their strong sense of tradition and family loyalty, the Bells looked first to their own Parks Ranch bloodlines. They purchased Parks Candy Girl from the family partnership, and then bought Hardwood Annie from their ranch foreman Stanley Wallis. Stan and his wife, Pat, had raised Hardwood Annie. She had been orphaned as a baby, and Ellen's mother, Harriett, had given the filly to them in return for their care.
Hardwood Annie was out of the Parks-bred mare, Cutter Billie by Cutter Bill, and by Hardwood San, a stallion whom the Parks-Faudree Family had purchased in the '60s from Matlock and Carol Rose. Incidentally, at one point they had Hardwood San in training with Al Dunning in Arizona, "before the oil business went bust and we had to pull our horns back in," Larry shared.
The Bells also acquired Miss Chickasha Sam, a Little Peppy-King bred mare, via a purchase-trade arrangement. Larry bought one of the Parks Ranch geldings and swapped it for the Miss Chickasha Sam. The owner struck the deal because the pretty bay wasn't going to make it as a rope horse. That was fine by Larry, as she had the breeding and looks of a producer — a premonition that was later confirmed when she produced NRCHA World Champion Ima Little Dual Pep.
What had started with Hobby Five, was now a quartet of broodmares. It wasn't long before they added a couple of more. This was starting to get serious. Larry, Ellen, Amy and Matthew were fully enjoying the process of studying bloodlines, determining good crosses, and foaling out their mares.
Early on, they spent quite a bit of time in the Gainesville area, going from ranch to ranch looking at studs. For starters, they selected young, "affordable," performance horses with respectable show records, great bloodlines, but few performance-aged get. Among their early choices were Bueno Chexinic, Mister Dual Pep, Paid By Chic, Lenas Sugarman, Smart Peppy Doc and Que Paza Doc.
The Bell's primary goal at this point was to raise high quality ranch geldings.
Discovering Cowhorses
The Bells quickly made friends in the performance horse industry. They attended the AQHA World Show to watch them compete and to learn more about the competitive side of the breeding business.
Amy was still hooked on the English events, while Larry and Matthew were particularly interested in the cutting, reining, roping and cowhorse classes. Being from West Texas, they had always appreciated good cutting and roping horses, but the cowhorse classes were a whole new deal.
"I've been going to cuttings nearly all my life, and we roped and branded and chased cows down the fence on the ranch, but I'd never been to a cowhorse event. We really liked it," remembers Larry. "I think it was Pete Bowling who said, 'Man, if you think these cowhorse classes are fun, you need to go to the Snaffle Bit Futurity.'"
So in 1998, Larry and Ellen made plans to attend the National Reined Cowhorse Association Snaffle Bit Futurity in Fresno, California. However, a month before the trip, disaster struck. Ellen was out walking with Matthew when she was hit by a pickup truck. She suffered multiple fractures, requiring surgery and nine months of physical therapy.
She wasn't going anywhere.
As the SBF dates approached, Ellen persuaded her husband to go. She had more than enough family, friends and medical staff hovering about, she assured him. She would be fine. So Larry went.
That trip turned out to be another life-changing event.
Greg Ward won the open division in spectacular fashion on a homebred named Reminics Pep. The victory was even more poignant because family, friends and Ward himself were acutely aware that this would likely be his last trip down the fence. Ward was fighting a losing battle with cancer.
Although Larry was not aware of just how sick Ward was at the time, the spirit of the crowd captivated him. He also had mares bred to stallions that descended from Ward Ranch bloodlines, so there was that sense of connection as well.
"It was, in a word, an emotional experience for me," Bell recalls. "Greg's finals run going down the fence… to listen to that crowd erupt… and the applause… and the outpouring of love that the people in that building had for that man, it was just overwhelming. I thought it was something special."
It was not only the spirit of that tight-knit horse community that moved him. He was impressed by the overall athleticism and grittiness of the horseflesh. He admired the degree of skill and the level of training required to compete. The history, the tradition, the sheer excitement of the three-tiered event intrigued him. And as a breeder, he felt his family had already embarked on a breeding strategy that could produce the type of horse that would be up to such a challenge.
"I felt this was something we should find a way to get involved in," he said simply.
The following February, Larry made his first trip to the Ward Ranch. He didn't buy anything on his first scouting mission, but it was only a matter of time.
Stallion Strategies
Kalpowar Quarter Horses, as the Bells had named their horse division back in 1994, had more than a dozen broodmares by the end of 1999. It seemed a prudent time to invest in a stallion rather than to keep sending all of their mares out to be bred.
Larry's initial thought was to buy a young horse, establish a performance record, and then breed him to the Kalpowar mares. But on second thought, it seemed like a slow way to go.
Instead, Kalpowar bought Just Plain Sugar, a black son of Just Plain Colonel. The stallion was already proven in cutting, and his bottom side was as deep as anything the Ward Ranch had to offer. His dam was Sugar Remedy, the 1982 Snaffle Bit Futurity open world champion. Sugar Remedy's mother, Sugarnic, was also a Snaffle Bit Futurity open world champion.
Sugarnic, in turn, was out of Fillinic, the matriarch of the entire Ward Ranch breeding program. In cowhorse circles, it doesn't get much better than that.
The Bells felt Just Plain Sugar would be a good fit for their ranch gelding program. He also offered the genetics needed to produce competition horses, should they decide to go that route.
On another trip the following year, a second opportunity presented itself. Larry and Matthew were walking through a herd of 2-year-olds when a pretty gray filly caught their eye. Larry asked Ward how she was bred and if she was for sale. The filly was a daughter of Masteroani, the stallion John had ridden to the 1994 Snaffle Bit Futurity Open Championship. She belonged to a client, but unfortunately, she was not for sale.
Later that day, Larry and Matthew watched Ward work Masteroani on cattle. John was preparing him for the NRCHA World's Greatest Horseman Contest, an event that requires a rider to cut, rein, rope and go down the fence on the same horse. The stallion made quite an impression. On his way back to the barn, Ward stopped the horse next to Larry and casually suggested that if Bell couldn't own the gray filly, why not buy the stud and raise more just like her?
Bell laughed dismissively, quickly conjuring the dollar figure it would take to acquire this gray NRCHA world champion son of Master Remedy.
Yet the idea stuck.
After Larry and Matthew got home, they began to talk about it. And the more they talked, the more sense it seemed to make.
Masteroani was double-bred Doc Bar. At that time, few of the mares in the Kalpowar broodmare band had any Doc Bar blood, so it was a viable cross. Masteroani had a proven performance record. He was a world champion reined cowhorse. His sire, Master Remedy, was also a proven cutting horse with approximately $200,000 in NCHA earnings. What's more, he was gray. The Bells had always considered color to be an asset, especially in the ranch horse market. (As an aside, at one time Ellen's grandfather owned one of the largest herds of grulla-colored Quarter Horses in the country.)
"Long story short, about eight months later, we were the proud new owners of Masteroani," Larry confirmed.
They were now poised to take their breeding program to the next level.
But the following year, the prospect of raising ranch geldings was less of a priority. A prolonged drought had taken its toll. While normal rainfall in and around Midland averages 15 inches a year, for several years they had received 5, 8 and 9 inches. There was no forage. The Bells were ready to liquidate their cattle herds.
"We literally were to the point that we couldn't feed them," recalls Larry.
Diversifying the Portfolio
So the Bells sold cows and bought mares. This time around, however, they had a somewhat different goal.
"When we decided to reinvest some of that cattle money in mares, Matthew and I identified two or three broodmare lines that we really wanted to focus on," explained Larry. This was to be a separate enterprise from their ranch gelding/cowhorse program.
With no discredit to either Masteroani or Just Plain Sugar, the Bells recognized that their West Coast championship cowhorse bloodlines were unknown in cutting horse country. They determined to breed their new black type mares to the hot NCHA trendsetters so the offspring would have immediate curb appeal at the NCHA sales.
"We wanted to try to produce high quality babies that would bring a handsome price at Fort Worth," Larry confirmed
Toward that end Kalpowar's broodmare band now includes proven daughters of Peptoboonsmal, Smart Little Lena, Grays Starlight, SR Instant Choice, and Playgun. They own an AQHA Junior Cutting World Champion, Girl Like That, and an AQHA two time Reserve World Champion Junior Working Cowhorse, Starlights Playmate. Kalpowar's mares include champions and money earners in cutting, reining and working cowhorse.
The AQHA's easing of restrictions on embryo transfer registrations has also helped. The Bells have reduced their mare numbers to concentrate on raising babies from their best broodstock. It gives them the opportunity to breed their good mares to their own stallions as well as to leading cutting and reining horse sires. With this diversified portfolio, the Bells are able to cater to all three industry segments.
More recently, Kalpowar has also become part of the Lenas Wright On Syndicate. This Smart Little Lena son was the 1994 National Reining Horse Association Futurity open champion, and is an AQHA world champion working cowhorse. His performance pedigree opens up several good marketing avenues, including the premier NRHA and NRCHA sales.
Grassroots Organizers
When the Bells first entertained the idea of raising reined cowhorses, almost no one in their neighborhood specialized in the event. Although Kalpowar had horses in training on the West Coast that were doing well, what the family really wanted was to be able to enjoy this sport a little closer to home.
In Texas, cutting is king, and Larry didn't figure he was going to change that. Yet, his entrepreneurial instincts told him there was an opportunity to help the cowhorse segment grow. After all, reining had made a successful sojourn from the East to the Southwest. Reined cowhorse events could do the same.
But it was going to take three things – time, energy and money.
However, they had a bit of a headstart. One advantage to promoting cowhorse events in the Southwest was that the horseflesh was already there, cached among the cutting, reining and ranching stock.
The Bells joined the Southwest Reined Cowhorse Association, and in 2002, Kalpowar Quarter Horses stepped forward to become the title sponsor of the SRCHA Futurity.
But the Bells didn't just write a check. They rolled up their sleeves and set to work.
"If we were going to put our name on it and our money into it, we were going to do whatever we needed to do to make it a success," explained Larry. "So our entire family showed up in Ardmore, Oklahoma, for those four days to haul shavings, help in the office, work the gate, and do whatever we could.
"We wanted to introduce ourselves and get better acquainted with that group," he noted. "We wanted to see what we could do to try to move this cowhorse thing up to a new level."
What the Bells found was a small-but-avid group of cowhorse enthusiasts who, like themselves, were eager to make great things happen. Larry's business acumen, and the family's energy and sincerity, were immediately welcomed. Larry personally volunteered to recruit additional sponsors to help grow the SRCHA purses. Matthew, too, jumped in to help organize and promote the stallion service auction, and that money went back into the purses as well.
"Larry and I had both been out to California to a lot of shows," Ellen observed. "Larry, especially, knew what the potential was, and what could happen with just a little backbone and coming with goods.
"When you're an owner and a CPA, you'd better watch out," she added with a smile.
Not surprisingly, Larry was quickly recruited to the SRCHA board. He served for two years as its president.
Higher purses and increased publicity have indeed attracted new participants. What has also helped the SRCHA to grow is a slow, steady migration of cowhorse trainers to the region. Among cowhorse enthusiasts, Oklahoma and Texas are now seen as lands of opportunity. SRCHA purses have grown from $44,000 in 2002 to more than $350,000 in 2005. Payouts for the 2006 SRCHA show season will likely exceed $400,000.
"We saw something we thought had tremendous potential, but it was going to take more than just our support to really make a significant change," Larry observed. "We had a great futurity, we had a good time, and we made lots of new friends."
For these reasons and more, Kalpowar continues to sponsor the SRCHA Futurity, and other major event sponsors have stepped forward as well, which has been very satisfying.
In similar fashion, the Bells jumped in with both feet when the NRCHA board voted to hold the first Reined Cowhorse World Championship Show in Stephenville, Texas. Larry, who is also NRCHA vice president, was named show committee chair. And again, everyone in the family pitched in wherever they were needed. Ellen, for instance, ran the practice pen. Matthew sold advertising and produced the World Show Program. He also coordinated the silent auction
The inaugural event, held in 2004, was an immediate success, even surpassing first-year projections. Exhibitors came from coast to coast to compete. And the NRCHA World Show has continued to grow over the last two years.
Fully Commited
In the beginning, the Bells waded into the performance horse world one cautious step at a time. But today, they're fully immersed in all aspects. There are few people in the cutting and cowhorse worlds who aren't familiar with Kalpowar Quarter Horses and the Parks-Bell Ranches."
Kalpowar's breeding operation continues to be headquartered in Midland, Texas, where Matthew, with the help of ranch foreman Stanley Wallis, manages the mares, foals and yearlings. Matthew's love of history, his penchant for pedigree research, and his keen ability to negotiate breeding contracts, have proven invaluable.
Two years ago, Larry and Ellen also acquired Comanche Springs Ranch, near Weatherford, Texas. This has become Kalpowar's training headquarters, Bozo Rogers and his family also train out of Comanche Springs. In addition, Kalpowar show horses are in the hands of other top cutting, reining and cowhorse trainers, as they continue to work toward a solid black type herd.
And remember Amy, the little girl who once showed no special interest in horses? Well, she's now a grown-up cowgirl – a certified cutting horse enthusiast who continues to ride and show on a regular basis.
For the Bells and the Cross-B brand, that brings things full circle – right back to the future.
The Kalpowar Name
Kalpowar Quarter Horses was officially launched in 1994. However, the Kalpowar name has a much older history. It comes from the ranch in North Queensland, Australia, that Ellen's stepfather, Bill Faudree, acquired in the 1960s as part of his global oil and gas ventures.
Even after his fellow energy investors pulled out of Australia, Bill Faudree held onto the land and expanded the Kalpowar cattle operation. Kalpowar Station, and the Kalpowar Brahman Stud, developed a reputation for producing some of the finest cattle on the continent.
One highly unusual, yet successful, practice was that all the purebred Braham calves were imprinted by their human caregivers shortly after birth. The idea was to be able to raise superior herd bulls that were not only great producers, but were also easy to catch and handle. Kalpowar's motto was, "We breed them tame."
Demand quickly developed for Kalpowar's purebred Brahman bulls, which were then crossed back on the English-bred cows common to the Australian ranching industry. That cross produced a stonger, hardier commercial grade of cattle.
When Bill Faudree fell ill, the responsibility for overseeing Kalpowar Station's financial management eventually fell to his son-in-law Larry Bell. Bell made many trips to Kalpowar Station and witnessed firsthand the positive impact the imprinting process had on those young bulls.
"You could walk into a herd, halter a 15-month-old bull and lead him out," Larry recalls.
That experience persuaded the Bells to later put those same techniques to work in their foaling operation back in the U.S.. At Kalpowar Quarter Horses in Midland, Texas, all of the babies are imprinted immediately after birth. Not only is Kalpowar continuing the tradition of "breeding them tame," they're raising and training them to be top performance horses.