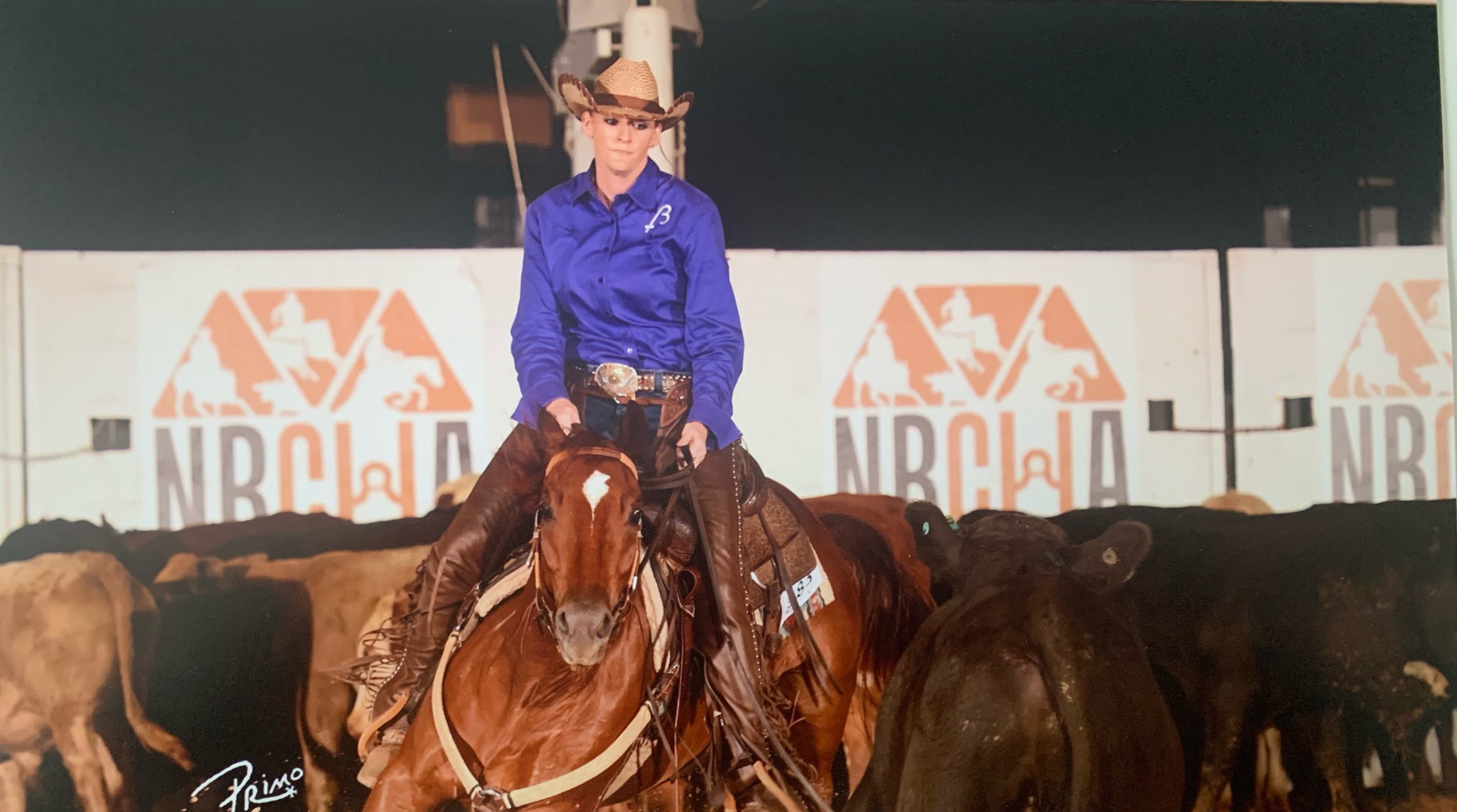 23 Apr

2017 Reba Rogers – Mr. Boonsquida and ADB Payin It Forward

From day one Reba Rogers knew Mr Boonsquida (by Dual Smart Rey out of My Kinda Pepto) was the horse for her. "Cletus" walked out of the group of yearlings and came right up to me.

Reba and her father, Bozo Rogers, made the journey to Kalpowar Quarter Horses to see the latest batch of babies. They left the ranch with not one prospect, but two. ADB Payin It Forward (WR This Cats Smart x My Kinda Pepto) joined Cletus in the trailer.

Reba sent Cletus to Jordan Williams as a 2 year old. Jordan started him, getting him saddle broke, ground work, riding and putting the basics on him. Cletus' training program was geared to make Reba a good non-pro horse.

"If a trainer is looking to make an open futurity horse or any open caliber horse they are going to ask them for a little more and step them up in the training process a little faster. My end goal was not necessarily to have a futurity horse but to have a solid non-pro horse. So we really just eased Cletus into everything and didn't rush any part of the process," explained Rogers.

"Cletus is the kind of horse people want to train. He was always easy to get along with and just wants to try for you. I wanted a horse that I could trust and that wasn't pushy. Jordan did a great job getting him started and ready for a Non-Pro to show."

"My dad, Bozo Rogers, took over and got my horse and me ready for the show pen. Jordan had started putting the stop on him and my dad, built on that. Stopping is natural for Cletus. He's somewhat lazy and likes to stop so that part of the training was pretty easy."

"From the time we started him we knew he would be good on a cow. He works a cow a lot like his dam (My Kinda Pepto). He has a lot of power and can make big moves. Cletus has a lot of natural cow ability. He really listens and waits for me. Best part is, he likes it."

Entering the Snaffle Bit Futurity had been on my mind through out his training. It wasn't until about a month before entries were due, Dad and I sat down and decided that I was going to enter. It had been after our first show. Until you put a horse in a show setting you don't actually know if you are ready or not. Cletus goes in the show pen like he goes at home. Nothing really phases him."

"I entered the Amateur Class at the Futurity. I had not been in the show pen for over 4 years and didn't want to put the pressure on myself or my horse to enter in all the classes. I wanted to go for the experience for myself and for Cletus."

"We went into each event with the goal of having clean runs. Cletus really put his heart out there and gave me everything I asked for. We tried to show smart and clean. Ended up that we came out in the top 10. I couldn't be happier."

Mr Boonsquida (Dual Smart Rey out of My Kinda Pepto) and Reba earned a composite score of 610 (herd work: 207, rein work: 209, cow work:194). The pair finished in the top ten of the Amateur Futurity (split 8th, 9th, 10th) and earned $711.00.

I plan on showing him at the AQHA Ranch Heritage Challenges this year as well as in the NRCHA Derby in Fort Worth in February.

ADB Payin It Forward (WR This Cats Smart x My Kinda Pepto) sold for $40,000.00 in the NRCHA Select Mare and Yearling Sale. He was bred by Kalpowar Quarter Horses and trained by Clayton Anderson and Bozo Rogers. A client of Jake Telford bought him.

"With the money she made on the sale of the 2yo she can keep going with the 3yo. That's great for her and great for our mare." Larry Bell said.

Bozo and Clayton Anderson started ADB Payin It Forward. "He is probably the best athlete I have every ridden. Powerful and mentally strong as a 2 year old and you don't see that a lot in a young horse. He shines in his athleticism and strength on a cow. He could be a little hot but as a stud that is expected. We just learned to use that energy to our advantage," Bozo explained.

"I decided he would go to the sale about the same time I entered the 3 year old for the futurity. He was developing really well and we thought he would do well at this sale. I tell everyone Cletus is lucky he was born first and I fell in love with him!" Reba jokes. "For me I knew the colt had a whole lot of talent and I wouldn't have the time or resources to go on with him like he deserved. I wanted him to go somewhere that they would put his talent to use. He is the real deal and is going to make someone a great horse."

At the sale people could tell the ADB Payin It Forward was the real deal. A lot of young horses have been over trained, but he was at a point where any trainer could take him and put whatever program they want on him. He has a lot of natural talent and ability and people could see that.

These babies have proven themselves and Kalpowar has developed a great breeding program. Babies out of My Kinda Pepto succeeding in the cutting and cow horse pen as well as in the roping arena. I would recommend Kalpowar bred/raised horses to anyone any day.